How To Build your own Mini Smoker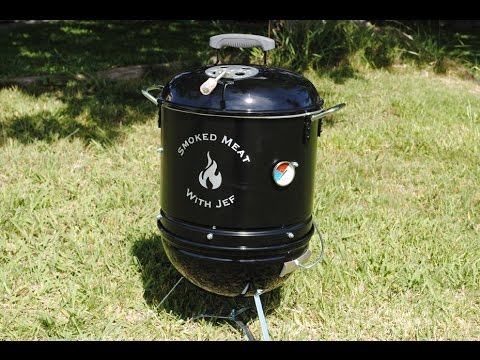 <!– google_ad_section_start –>
How To Build your own Mini Smoker – Weber Smokey Mountain
Video tutorial on how to build your own mini smoker.
Base Materials Needed:
Weber Smokey Joe (Gold Version Preferred)
32 Quart Steamer Pot – Sources – Search AMAZON for "Imusa Steamer Pot, Aluminum, 32-Quart" – OR – "Vasconia 32-Quart Aluminum Steamer with Lid". But you can find something suitable for less if you search around.
Hardware: (All ¼", 20 thread, Stainless Steel)
Handle Assembly – 5-6" Carriage Bolt, Handle Material (Wine Bottle Cork works well), Lock Washer, 2x Nut, Cap Nut.
Bottom Tier Assemblies (Three needed) – 3" bolt, Lock Washer, Nut, Cap Nut.
Top Tier Assemblies (Three needed) – 3/4" bolt, Lock Washer, Nut, Cap Nut.
(Optionsl) Stick of Allthread with 2x Nuts and 2x Cap Nut. (Replaces one of the 3" assemblies)
Thermometer Gauge – Source – Search AMAZON for "bbq factory 2″ 550F(2-pack) BBQ CHARCOAL GRILL PIT WOOD SMOKER TEMP GAUGE THERMOMETER 2.5″ STEM SS RWB"
Extra 14" Weber Grate
12" Terracotta Planter Tray
Source: SmokedMeatWithJef