Authentic Thai Grilled Fish Recipe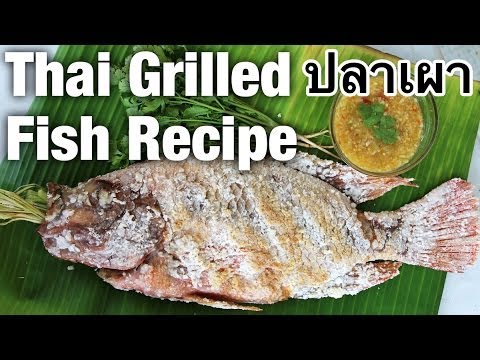 |
<!– google_ad_section_start –>
Authentic Thai Grilled Fish Recipe
Along with the fish itself, one of the most important components of a Thai pla pao is the seafood sauce, which in Thai is known as nam jim seafood. The sauce is pretty simple to make, but it has so much incredible flavor from the garlic, chilies, and fish sauce.
For the fish
2 whole fish (also 1 fish works fine, just reduce ingredients)
½ kilo of salt (big grain if possible)
2 tablespoons of all purpose flour
About 1 tablespoon of water
4 – 6 stalks lemongrass
small handful of kaffir lime leaves
For the sauce seafood
6 tablespoons fresh lime juice
3 tablespoons water
2 tablespoons fish sauce
1 tablespoon sugar
½ teaspoon of salt
15 cloves of garlic
20 Thai bird chilies (prik kee noo suan พริกขี้หนูสวน)
This Thai grilled fish street food recipe (pla pao ปลาเผา) should take about 15 or 20 minutes to get everything ready, and then it will need to be on the grill cooking for about 45 minutes to 1 hour, depending on how hot your fire is, and how big your fish are.
Source: Mark Wiens