[VIDEO] BBQ Bacon Sushi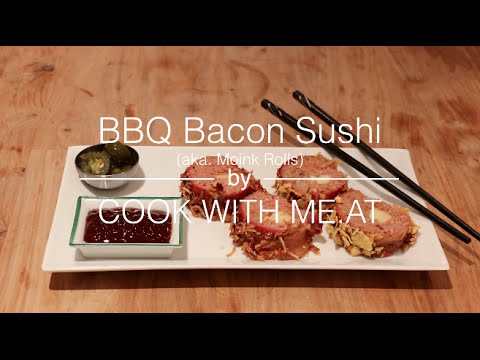 <!– google_ad_section_start –>
Eat Sushi but Stay A Texas BBQ Lover
A fantastic fusion of the East and West.
To some, this is not true BBQ and refused to be brainwashed.  But don't be deceived by this dish.  It has all the taste of BBQ and meat, but the presentation is Japanese.  Nice idea to try.
Come with full BBQ sauce and Pickled jalapenos.  Nice combo.
12 Slices of Bacon
500g Minced beef
BBQ Rub
2 Sticks of Emmental-type cheese
BBQ sauce
Pickled jalapenos
Roasted onions
Crumbled nachos
Source: COOK WITHMEAT
Preparation:
Put 6 bacon slices on a sushi rolling mat, season the minced beef with your favourite BBQ rub and apply a thin layer of meat on the bacon.
Place a cheese stick on the meat, roll it up tightly and prepare your Barbecue for indirect heat. Put the Moink-Rolls on an indirect zone of the grill, close the lid and cook for about 35 minutes at 180°C / 356°F.
Glaze the Moink-Rolls after 25 minutes with a BBQ sauce of your choice and cook for another 10 minutes. Glaze again after 5 minutes.
Coat the ready cooked Moink-Rolls with crubled nachos and/or roasted onions and portion as desired.
Serve the Bacon Sushi with extra BBQ sauce and pickled jalapenos.