Texas Pecan Smoked Turkey with Bourbon-Honey Glaze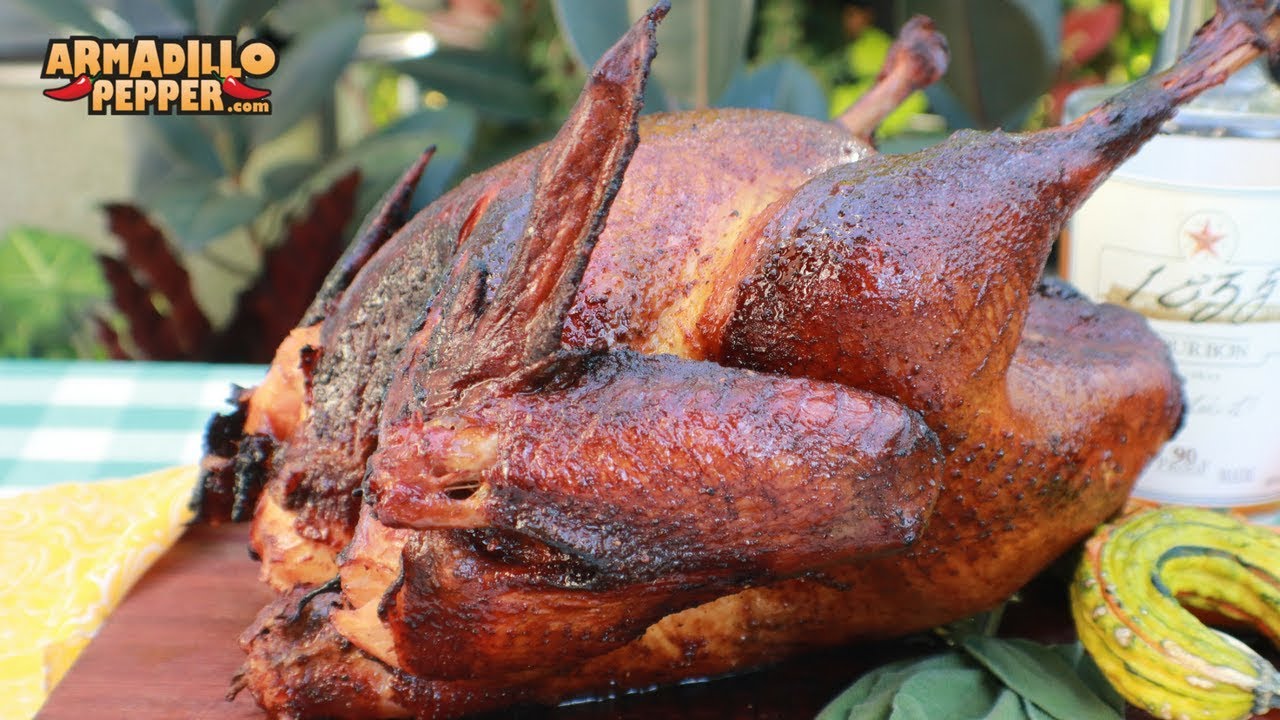 |
<!– google_ad_section_start –>
Texas Pecan Smoked Turkey with Bourbon-Honey Glaze
Dry Brine Recipe/Ingredients
• 6 tablespoons Kosher salt
• 2 tablespoons Baking Powder
Protein Ingredients
• 1 whole turkey, 12.7 lbs used in this recipe
• 2-4 tablespoons olive oil
• 2-4 tablespoons of Sucklebuster's Texas Pecan BBQ rub
Bourbon-Honey Glaze Ingredients
• 1 cup Texas 1835 Bourbon
• ½ cup Sage Honey (or your favorite honey)
• 3 tablespoons apple cider vinegar
• ½ stick butter
Procedure
1. Remove the giblets and any other gravy packs, etc. that came with the turkey.
2. The day before your cook, rinse the turkey and pat dry with paper towels.
3. Place the turkey on a raised grate in a baking pan. This allows air to circulate around the turkey for a crisper skin.
4. Mix the Kosher salt and baking powder together and then apply to the turkey using your hand. For a 12.7 lb turkey, you will have extra salt/baking powder mixture. Discard the remaining salt/baking powder mixture.
5. Place the turkey in the refrigerator (uncovered) overnight.
6. The next day, wipe any excess salt from the turkey using paper towels.
7. Start the Pit Barrel Cooker and add some Pecan wood chunks.
8. Hang the turkey on the Pit Barrel Cooker hanging-turkey accessory and place in the PBC.
9. After 2 hours check the temperature and insert your remote digital thermometer probe if you plan to use one. My turkey was at 147 degrees F.
10. When the turkey reaches approximately 140-145 degrees F, start the glaze. Suggest you start the glaze after 1 hour and 45 minutes of cook time. I started at 2 hours and it turned out okay, but I was a bit rushed.
11. To make the glaze, melt the butter over medium heat in a saucepan. Add the apple cider vinegar and then carefully add the bourbon. Bourbon is flammable, so use CAUTION.
12. Simmer and stir the glaze until it is reduced by half. This took about 23 minutes. When reduced remove from the heat and stir in the honey.
13. Glaze the turkey 1 to 2 times before the thickest part of the breast reaches 165 degrees F. The thigh temperature can reach 175 degrees F. Total cook time for this turkey was 3 hours 10 minutes.
14. Remove the turkey from the Pit Barrel Cooker and let rest for 15 to 30 minutes.
15. Slice and serve!
Source:ArmadilloPepper.com