Slow Roasted Prime Rib of Beef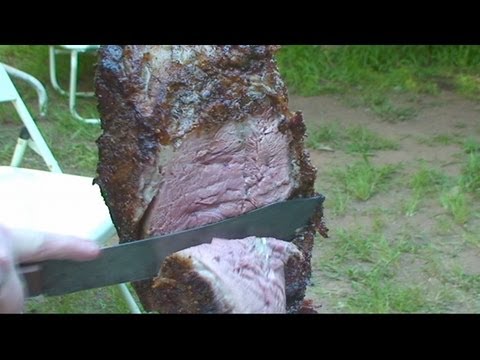 <!– google_ad_section_start –>
Slow Roasted Prime Rib of Beef
Ah, there's nothing quite like prime rib. This prime rib is slow roasted making it even more tender. There is a simple, but flavorful rub which will give you a great gravy afterward.
Remove prime rib roast from refrigerator and let stand at room temperature for 1 hour. Meanwhile combine garlic, salt, pepper, oregano and rosemary together and rub over the surface of the roast.
Prepare smoker for a 4 to 6 hour smoke at a temperature of about 225 degrees F/110 degrees C. When smoker is up to temperature put the roasting pan with the prime rib on top rack and add several water soaked chucks of wood.
Source: BarbecueWeb