Parmesan Garlic Smoked Potatoes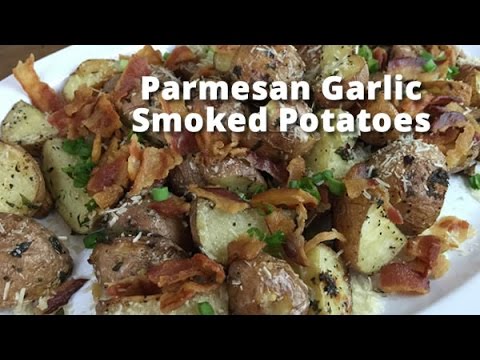 |
<!– google_ad_section_start –>
Parmesan Garlic Smoked Potatoes
First I take red potatoes and quarter them, then I cook thin sliced bacon and reserve the grease. It's best to lay your bacon on a cookie sheet and bake it in the oven at 425 for around 15 minutes (or until it get's brown and crumbly).
Then you place your quartered potatoes and lay them on the same baking sheet you cooked your bacon, add olive oil and a few spoons of bacon fat and coat with coarse salt, black pepper, parsley and diced garlic.
Now take the cookie sheet with your potatoes and place them on your 300 degree smoker for 1.5 hours. You'll know when your roasted potatoes are done because they are fork tender.
Once your roasted potatoes are off the smoker, put them on a serving platter and garnish with Parmesan cheese, shopped green onion and crumbled bacon. These Parmesan Garlic Smoked Potatoes will the star of dinner.
Source: HowToBBQRight Malcom Reed