How to Build Your Own Backyard Smoker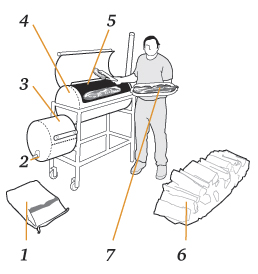 <!– google_ad_section_start –>
Blueprint of The Most Impressive BBQ Smoker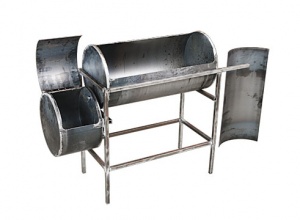 First appeared in PopularMechanic.com back in July 2006.   An impressive 9+ years ago and still very relevant today. After many years using a small water smoker, this man decided to build a smoker on his own.  It was a very simple project and everyone can do it.  However, the project involves a lot of welding and the materials are available at The Home Depot and Sears.  If not, recycled old water pipe, rebar or even electrical conduit can do the trick.
Barbecue, the traditional American style of cooking, is not to be confused with grilling, although the terms have become almost interchangeable in millions of American backyards. Steaks, burgers and hot dogs are grilled. True BBQ is a different art form altogether.
Do not use a non food grade barrel.  Find and use a heavy-gauge steel (just under 1/8 in. thick) to ensure a long service life and to add thermal mass for all-day, slow fires.
Download this instructions if you are ready to start: DIY Smoker Plans.
Or go on to next page (Build Your Own Barbecue Smoker) for a more recent comprehensive guide.
[1] Lump-style charcoal
[2] Firebox damper door
[3] Firebox with tight-fitting door
[4] Smoke chamber with chimney
[5] Stainless steel grill
[6] Seasoned oak and apple wood
[7] Dinner—in about 4 hours
Source: PopularMachanics