Honey Ginger Barbecue Shrimp Skewers on the Grill – BBQ Shrimp Recipe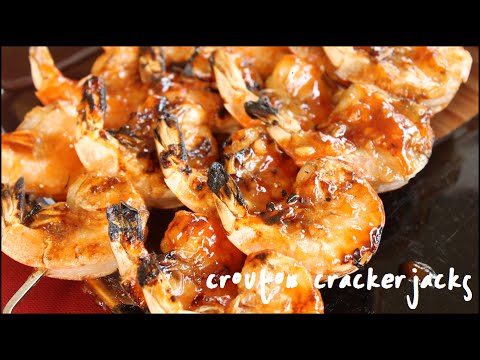 |
<!– google_ad_section_start –>
Honey Ginger Barbecue Shrimp Skewers on the Grill – BBQ Shrimp Recipe
What you'll need:
1 lb (26-30) raw deveined shrimp (with or without shells and tails)
1 cup apple cider vinegar
1/2 cup honey
1/2 cup ketchup
2 Tbsp minced fresh ginger
3 garlic cloves, minced
1 tsp salt
skewers
In a medium saucepan, combine vinegar, honey, ketchup, ginger, garlic and salt.
Bring to a boil over medium-high heat stirring constantly.
Reduce heat to low and simmer 30-40 minutes, stirring occasionally until sauce reduces by half and is thick.
Remove from heat and set aside. Preheat your grill and skewer the shrimp through both the tails and the midsection.
If using wooden skewers, soak them for at least an hour before hand so they don't burn on your grill.
When your grill is up to temp, place skewers on.
Cook 2-3 minutes on each side.
Baste with sauce and cook an additional 1 minute on each side.
Serve with extra sauce on the side. Makes 4 large skewers.
Source: Crouton Crackerjacks